The automatic self-checkout app for smartphones.
A short summary of the project
I am raising £750 to register and start an official company and to purchase the tools to help me put my product out in the market. I have designed and developed an app named iBuy, that allows shoppers to purchase items inside shops, simply by scanning an item's bar code using an iPhone/ iPad's camera. iBuy is designed to be as simple as possible for the users so that they would be able to make a purchase inside a shop in just a manner of seconds after opening the app. Using this method, customers are not required to wait in a shop's busy queue or to carry physical cash or credit/debit cards with them because they would be able to simply pay with their phones.
How does the app work?
Step 1:
The app produced by the company is called iBuy. iBuy provides an alternative payment method inside shops and retailers in order to accelerate customers' purchasing process and in-store sales rate, using a smartphone. iBuy allows customers to purchase items from different shops and brands, through a single app. 
iBuy's main point of sale is the "shop listing" page where each individual shop is required to pay a monthly subscription fee in order to appear in the listing. Each customer must have his or her own account to use the app. When the app is downloaded on an iPhone/iPad and is opened for the first time, it will ask the user to login to their account or signup for a new account in order to save the customers personal and payment details as shown in the figure below:
Step 2:
The user may select the "Shop Listing" page to view all shops that accept iBuy payments. The page would show a list of registered shops depending on the user's location. The customer would then have to locate or search the name of the shop that they would like to make a purchase from, and select it. 
Step 3: After the customer selects the name of the shop, a barcode scanner will appear in the app and the customers would be able to scan their item's barcode and then add it to the app's basket as shown in the figures below: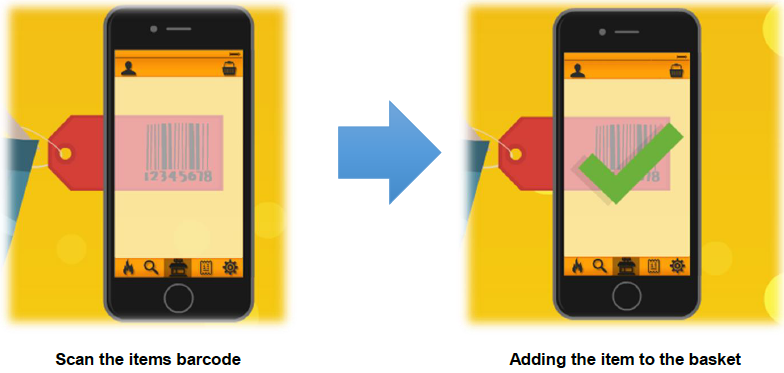 Step 4: After the customer has added all of their items to the app's basket, they would have to click on the basket icon in order to make a transaction and proceed to checkout. They are also able to order similar products if out of stock. For example, in a clothes shop, if T-shirt "A", size "S" is only available in the shop, customers can scan the T-shirt's barcode and order another size ("M" "L" and...) for later. Depending on each shop's preferences, their customers may have 3 options:    

             1. Customers can view the date of when specific items are restocked in the shop. 
             2. Customers may order the out-of-stock item/s and collect it in-store.    
             3. Customers may place an order for delivery and select their current home address or enter a       new address with gift-wrapping options if delivering for someone else. 
Step 5: iBuy's second point of sales is the "Hot Deals" page. Shops may advertise their promotion of the day/week/month on the "Hot Deals" page and would have to pay an additional fee depending on the period of their promotion. Hot deals promotions come in 3 types of subscription plans: 1. Single day promotion 2. Weekly promotion 3. Monthly promotion. Shoppers will also receive push notifications on their iPhone/iPad's home screen about a promotion as soon as they are in a 3-mile radius of that shop. The hot deals page and the listing would appear to the customer as below: 

Other pages in the app relate to the customer and they include: 1. Personal profile 2. Customer receipts list. 3. Account and payment settings. 
An online application will be developed for merchant's usage to display all purchased items by customers from the shop in real-time. Registered shops will have access to iBuy's online CRM platform (Customer Relationship Manager) to manage price and products, stock levels, tax rates, user and customer reports. 
Who am I?
I am a final year student at Southampton Solent University and I am studying Computer Systems and Networking. I am also very interested in computer programming and app development. My networking skills have enabled me to have a better understanding of the Internet of Everything (IoET) and I have put my skills to into practice to develop this app. I am planning on expanding my company and work with more partners as the business reaches it's current goals, and I have already planned the next 3 projects for the future that would also benefit businesses and users.
Where will the money go?
Hopefully you are interested in the app now, and willing to make a donation to support the business. The money will be spent on the following if the minimum target is reached:
Company fees: £200
Apple developer account: £99
Business area booking fee: £300
Website, storage, email and business monitoring tools: 

£96
Rewards 
As a thank you for supporting the business, you will receive a personalised thank you card and we will double the amount you donated, and donate it to charity when the business is stable. So for example if you donate £1 now, we will donate £2 to charity once the business takes off. We will also keep you up to date with our success stories and offer you our best deals and discount vouchers in the future.
Help us succeed!
- You don't need to give money to help us succeed! Please share this project with anyone you think would support us – on Twitter, Facebook, LinkedIn, by email, telephone, in a chat over the fence or on your blog.
- In fact, share it with everyone you know as we think it's a great idea, and the more people who know about it, the more likely we are to make this work out brilliantly.
- And we know we said you don't need to give money to help us, but we'd love it if you did! Please sponsor us and help make this happen.