A brand combining fashion and illustration ruled by colour and graphic art

A brand combining fashion and illustration ruled by colour and graphic art
My name is Jasmine Fleur Sullivan
I am raising money to set up my own fashion brand
I am a 22 year old fashion styling student in my final year at Southampton Solent university.
I have an ambition. I have always liked the idea of being my own boss...University is nearing the end and i am determined to set up my own business and make it a success...I would love it if you could support me on my journey!

@SKETCHWELSHCAKES
https://www.instagram.com/sketchwelshcakes/


My story 
Anyone who knows me will be aware of my ongoing desire for colourful and quirky patterned fashion. The high street today is 80% filled with 10 different shades of the colour black. I want to represent the other fellow colour lovers and create something amazing and unique. This project is important to me because I really want to make a change, this is something i feel very passionate about. By donating to the Sketch Welsh Cakes brand you can follow the project from its beginging and gain the satisfaction of seeing happy colourful people walking down the street in the near future all over the UK. My future aims are to take the Sketch Welsh Cakes brand to festivals worldwide selling the company products and re-vamping festival goer's belongings in order to enhance their festival experience. I would then love to involve big UK fashion retailers such as TOPSHOP and ASOS and gain their support and backing to sell the Sketch Welsh Cakes brand before creating a wild and wonderful colourful fashion empire!
WHAT DOES THE sKETCH BY WELSH CAKES BRAND ACTUALLY DO?
The service that I will be offering will predominantly involve customising existing items of clothing and shoes- the price will alter per piece, based on an item's size, the level of customisation, and whether the client would like their pre-existing item customised, or they are purchasing a pre-customised piece. The cost of customisation will range from £10-£30.
I will also be creating a launch event with a pop up shop where I will be selling items I have already customised, including shoes and tote bags. I have also designed iron-on and pin badges that can be purchased at the event. Following the event these items will be available to buy on the Sketch by Welsh Cakes website.
Where will the money go? 
- The minimum funding will provide materials to create products for the brand which which will include unique trainers, custom badges and other accessories. As well as setting up a professional and fully functioning website.
- If i am able to hit my full target the money will be used to create a campaign for Sketch Welsh Cakes and to promote the brand further, along with mastering each product's quality and focusing on promotion.
- Any extra funds raised will be put back into the business and support new and developing product ideas.
- I aim to do a weekly update on the business' progress in the form of a blog post/video on youtube. This will include a behind the scenes of the product making, planning, where sources of inspiration have from and any events that the brand is involved in. 
The breakdown of the funding needed
- Material costs including paint and fabric markers for illustration: £200
- Marketing costs including promoting the brand on Facebook and twitter: £50
- Production costs including making of iron on patches with an outside company: £200
- Printing of labels and packaging costs including sending online purchases to customers: £30
- Travel costs including transport to pop up event with stock as well as research trip to London: £50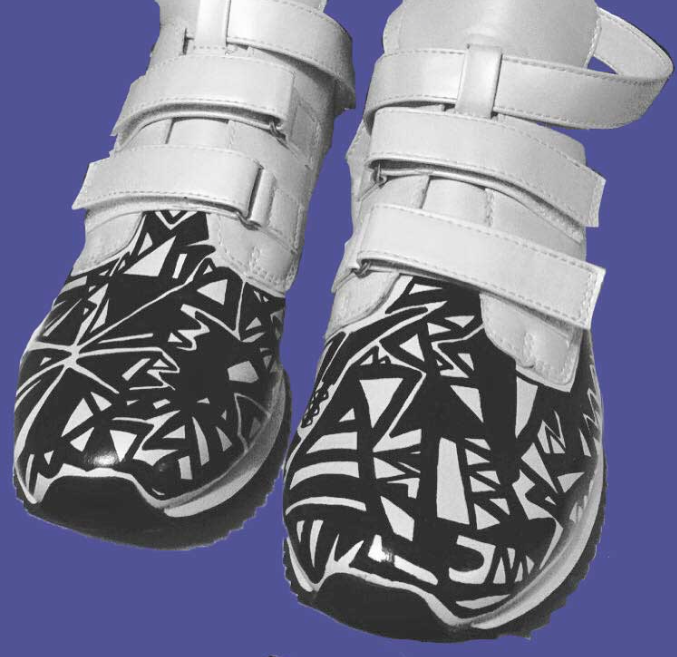 TRAINER CREATIONS WILL BE AVAILABLE FOR PURCHASE BY MAKING A DONATION, AT THE POP-UP SHOP AND ON THE SKETCH BY WELSH CAKES WEBSITE IN THE NEAR FUTURE.

Rewards 
I would love to be able to reward everyone for helping fund the Sketch Welsh Cakes brand, free personalised, hand illustrated goodies ( including badges, tote bags and trainers) for all supporting me just as a massive THANK YOU!!!!!
find us here:
Keep updated on the project via Instagram @sketchwelshcakes
Follow on Facebook for updates @jasminefleursullivan
***WEBSITE COMING SOON!!***
HELP US SUCCEED 
Please share and support the project..
Any donations would be extremely appreciated but i know how hard modern day life is......5p plastic bags and ridiculous beer prices.
If you are unable to donate IT'S OK!!!
I would really appreciate it if you could pass on the word and share my page, spread the colour!!!